Over the past year, we've heard from growers and others that a UConn-based hot water seed treatment service is among the top agricultural priorities in the state. Well, we listened! Thanks to funding support from the New England Vegetable & Berry Growers Association and UConn's Grant for Innovative Programming in Extension, the UConn Plant Diagnostic Lab in collaboration with the UConn Extension Vegetable Program is now offering hot water seed treatment for vegetable seed!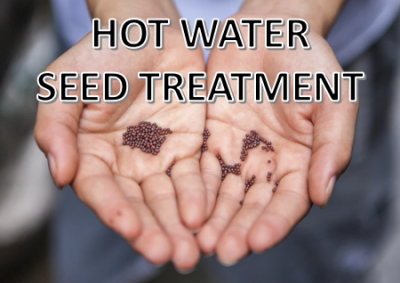 Background on hot water seed treatment
There are several plant diseases caused by fungal, bacterial, oomycete and viral pathogens that can persist on or inside seeds. At germination, infested seeds can infect the resulting plants that grow, and cause early infection. While chlorine and other chemical seed treatments can be effective at removing pathogens that adhere to the seed surface, these treatments are not able to penetrate the seed coat and eliminate pathogens that are present inside. As a result, hot water seed treatment has emerged as one of the best known methods to manage seed-borne pathogens, because of the treatment's ability to kill pathogens that exist both on the outside and inside of seeds.
It is important to note that while hot water seed treatment can eliminate pathogens on and in seeds, it neither protects nor guarantees that plants will remain disease free throughout the growing season. Hot water treatment will enable you to start with clean seed, and strong cultural management practices (i.e. crop rotation, field sanitation, scouting, etc.) will still be important to implement on plants that grew from hot water treated seed.
Complete list of crops eligible for UConn's Hot Water Seed Treatment
| | | |
| --- | --- | --- |
| Broccoli | Coriander/Cilantro | Onion |
| Brussel Sprouts | Cress | Parsley |
| Cabbage | Eggplant | Pepper |
| Carrot | Kale | Radish |
| Cauliflower | Kohlrabi | Rutabaga |
| Celeriac | Lettuce | Shallot |
| Celery | Mint | Spinach |
| Chinese Cabbage | Mustard | Tomato |
| Collards | New Zeland Spinach | Turnip |
How it works
The treatment process is fairly simple. We follow established and tested protocols for hot water treating each species of vegetable seed to ensure the highest quality. Seed undergoes a pre-warming process in a controlled water bath at 100°F, then is subjected to treatment in another water bath at 118-125°F for 15 to 30 minutes depending on the crop. Seed is immediately air dried, carefully packaged, and shipped back to the grower at the address they provide.
Treatment fees
0.01-1 oz of seed per cultivar submitted: $6
0.01-13 oz of seed for shipping & handling to return treated seeds to client: $6   
For example: you submit 0.6 oz of cherry tomato seed ($6), 2.3 oz of kale seed ($18), and 1.1 oz of beefsteak tomato seed ($12). Your total seed treatment cost is $36, with a shipping cost of $6 (4 oz of seed ). Total cost is $42.
We accept check, credit/debit card, or money order for payment. To learn more about the fee structure, click here.